Pics from my last outing at the beach...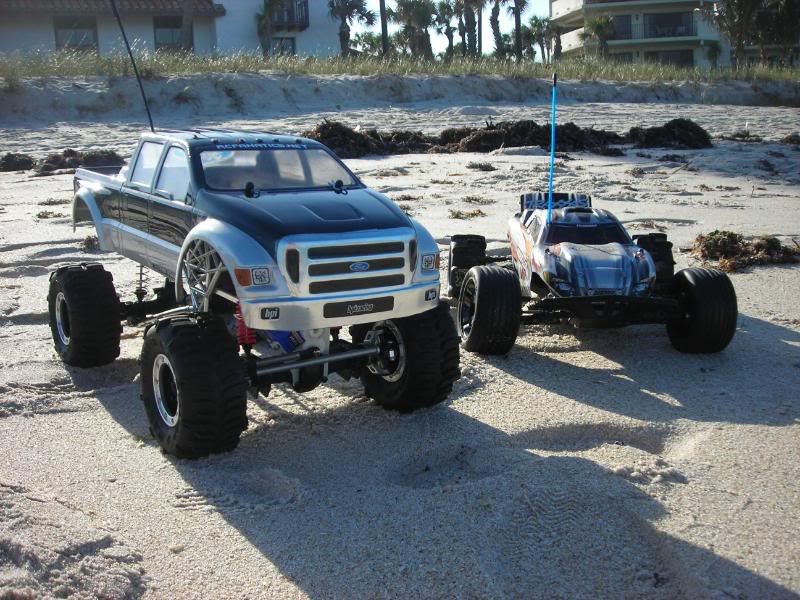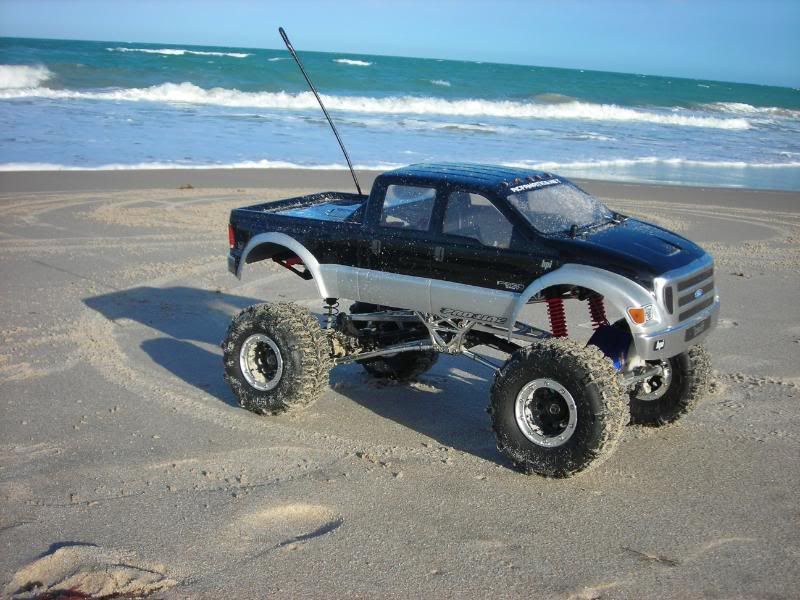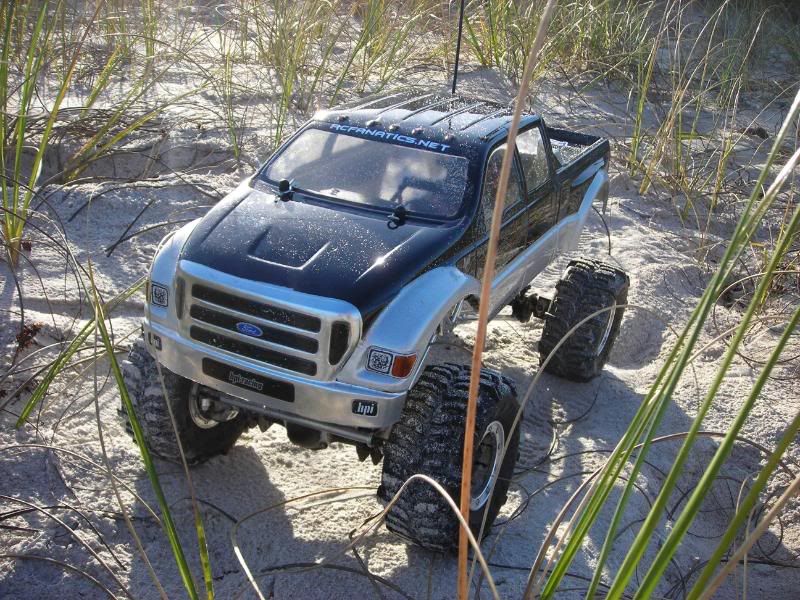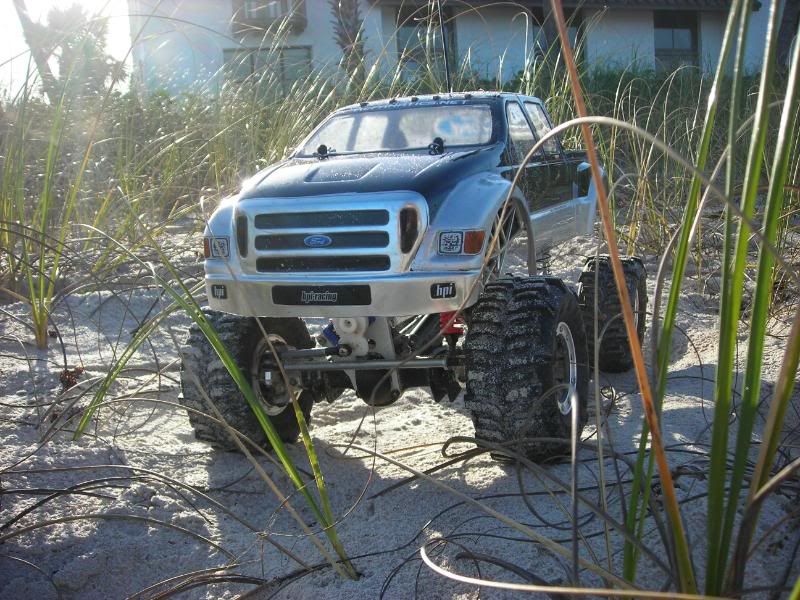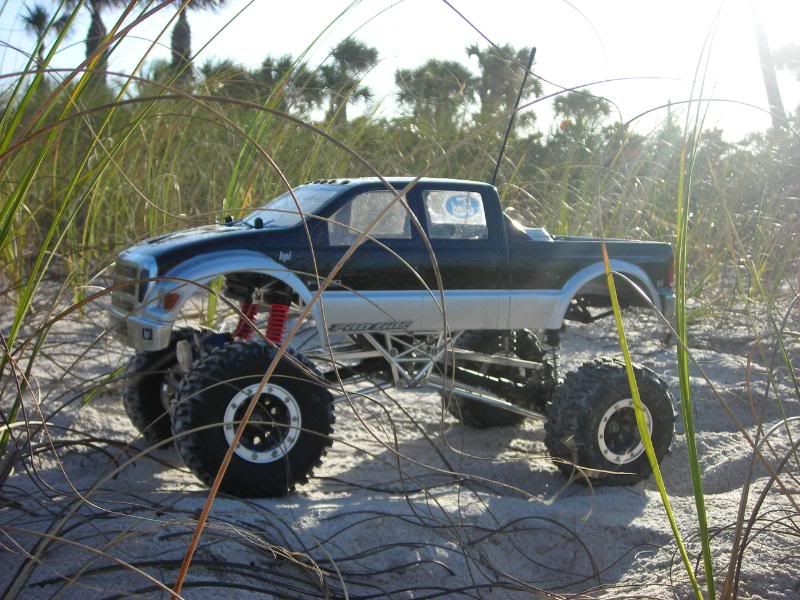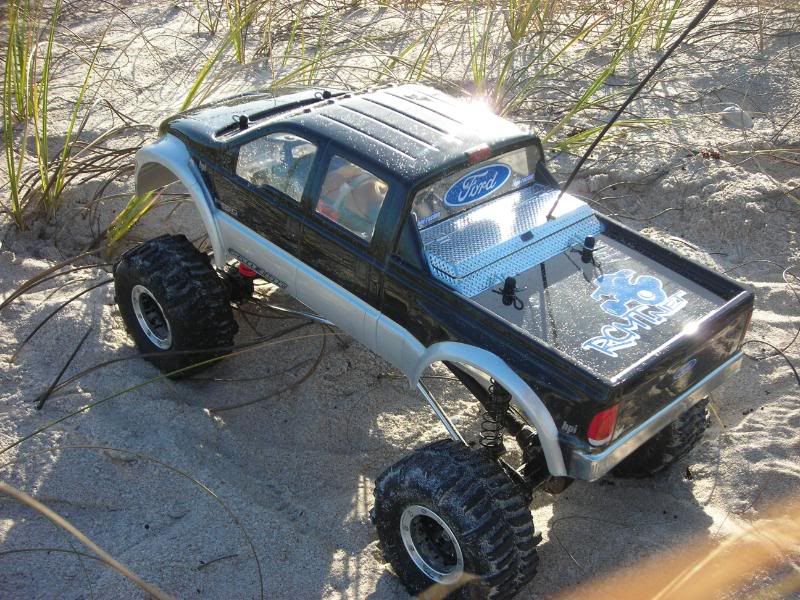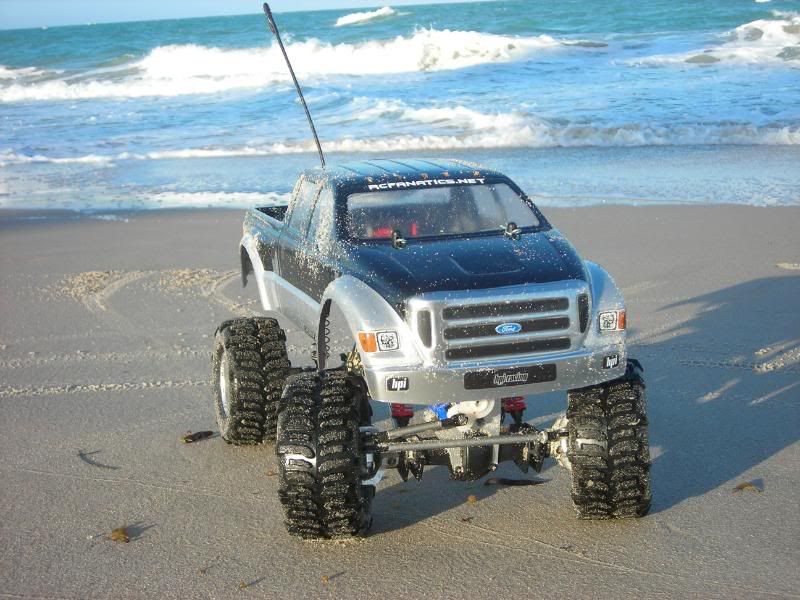 Great Planes S-600 19t Motor
Traxxas Waterproof XL5
Traxxas Waterproof Servo (better of the two they offer)
Traxxas T-Maxx/Long Half Shafts
Stock Receiver (in balloon), uses Traxxas TQ2 Radio
Robinson Racing 24t Pinion, Stock Spur
CKRC Aluminum Trans Gears
CKRC Axle Steering Kit
Kimbrough Servo Saver
RC4WD Straight Axle Adapter
RC4WD Aluminum C-Hubs
RC4WD Extended Wheelbase Kit
STRC Diff Locker (rear)
STRC Knuckles
HPI Crawler Kit (lower link mounts, body post adapters)
Imex 2.2 Swamp Dawgs
CR-01 Stock Beadlocks
Stiffer springs for rear from unknown vehicle
Homemade mod to lower top shock mount location (raises chassis)
...I spent way more on upgrades than I did for the truck brand new with shipping.
It's got tons of torque but it's top end is lacking a bit. It's not really meant to go fast but a little more speed would be nice.
Here are all my WK videos since I started filming it...
First rainy day outing (wasn't waterproofed yet but all elecs were mounted high):
http://www.youtube.com/watch?v=Zc1q1_Mp ... annel_page
http://www.youtube.com/watch?v=wNtWHJrn ... annel_page
http://www.youtube.com/watch?v=WxdVi24U ... annel_page
http://www.youtube.com/watch?v=FZdYr03K ... annel_page
When it was sort of a crawler:
http://www.youtube.com/watch?v=Hrp3R-8L ... annel_page
Upgraded motor/esc, 24t pinion:
http://www.youtube.com/watch?v=WIVmXs8b ... annel_page
http://www.youtube.com/watch?v=bu25GR1x ... annel_page
Beach Day (pics posted above):
http://www.youtube.com/watch?v=dFtcf_bs ... annel_page
http://www.youtube.com/watch?v=suobPZ33 ... annel_page
http://www.youtube.com/watch?v=VyIPFHrX ... annel_page
http://www.youtube.com/watch?v=a2r4xcIo ... annel_page
Rainy Day (vid also posted below):
http://www.youtube.com/watch?v=lKew3Ii3 ... annel_page