I made this cargo net for crumplezone. It consists of elastic cord and some necklace loops. It takes a while to do this and make the squares work out to the same size, but the outcome is worth it. The method is about the same as my bungee cords, but harder. I start out with a base measurement of the relaxed length, and then subtract a inch. You want it tight, but not so tight you can't store your cargo undernieth it. I made my lengths and started tieing knots. You want to make sure that the ends cords are long enough to use as the hook mounts. Dont worry about the lengths of the ends, as they can be cut and shortened after you're done. Remember these 2 rules, measure twice, cut once, and also remember it's easy to make the cords shorter, not so easy to make them longer. You will need the elastic cord, a knife, needle nose pliers, a lighter, super glue (good stuff too, not the cheep crap that turns white) and the necklace ends.
Once you have you're cords all tied up, put a drop of glue on each knot to make sure the cords don't slip and release your cargo. Use the lighter to seal up the ends of the cords so they don't fray.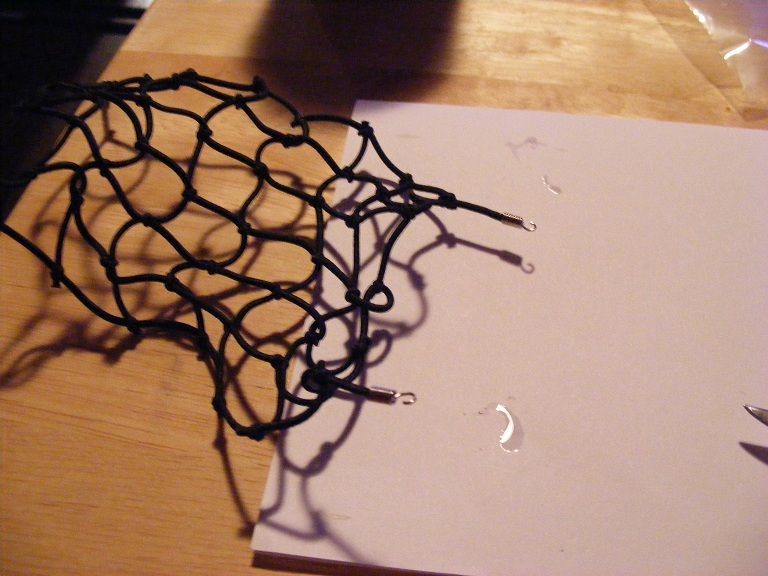 The end result is a cargo net that looks 100% scale and is fully functional. This net is stout and again, the ends will puncture your skin or bend, before they come loose.
If you have a interest in having a net or some bungees made let me know. I'm not going to go all in on these things and start selling them on other sites. But if you guys want me to make you some bungees or a net let me know and I'll shoot you a price. Or use this tutorial and make you one for yourself and I'll help with any questions you may have.